A QUICK CHAT WITH: DAVE COLEY
To say Dave comes to this role with a wealth of experience is somewhat of an understatement. He joined Artform in 1993 as a CNC programmer and over the years has dived into development, prototyping and print. During this time, he's learned AutoCAD, stock systems, allocating materials to jobs, procurement… all incredibly useful skills.​
A FEW MINS WITH: KEITH GROVES
Our Fabrication Manager Keith joined us in August 2021 following several years at Clements Retail as Acrylics Manager and then in Project Management. So, Keith, how have you found your first six months at RDD?Really positive! I wasn't enjoying Project Management at the end of my last role and so I joined RDD to get back to what I know best. My passion is for trying to make things better, smoothing them through improved processes and understanding people's strengths and weaknesses. RDD offered me a great opportunity and team to work with. I feel my ideas are listened to, and we've put many of them into practice already. I've been well received by the team, who in turn are receptive to the changes I've introduced. For example, we've developed colour coding for items throughout the fabrication department which has meant we can locate parts, cartons and products without having to pick out printed part numbers. This has made collation of parts/product much smoother, saving time making the process more efficient.​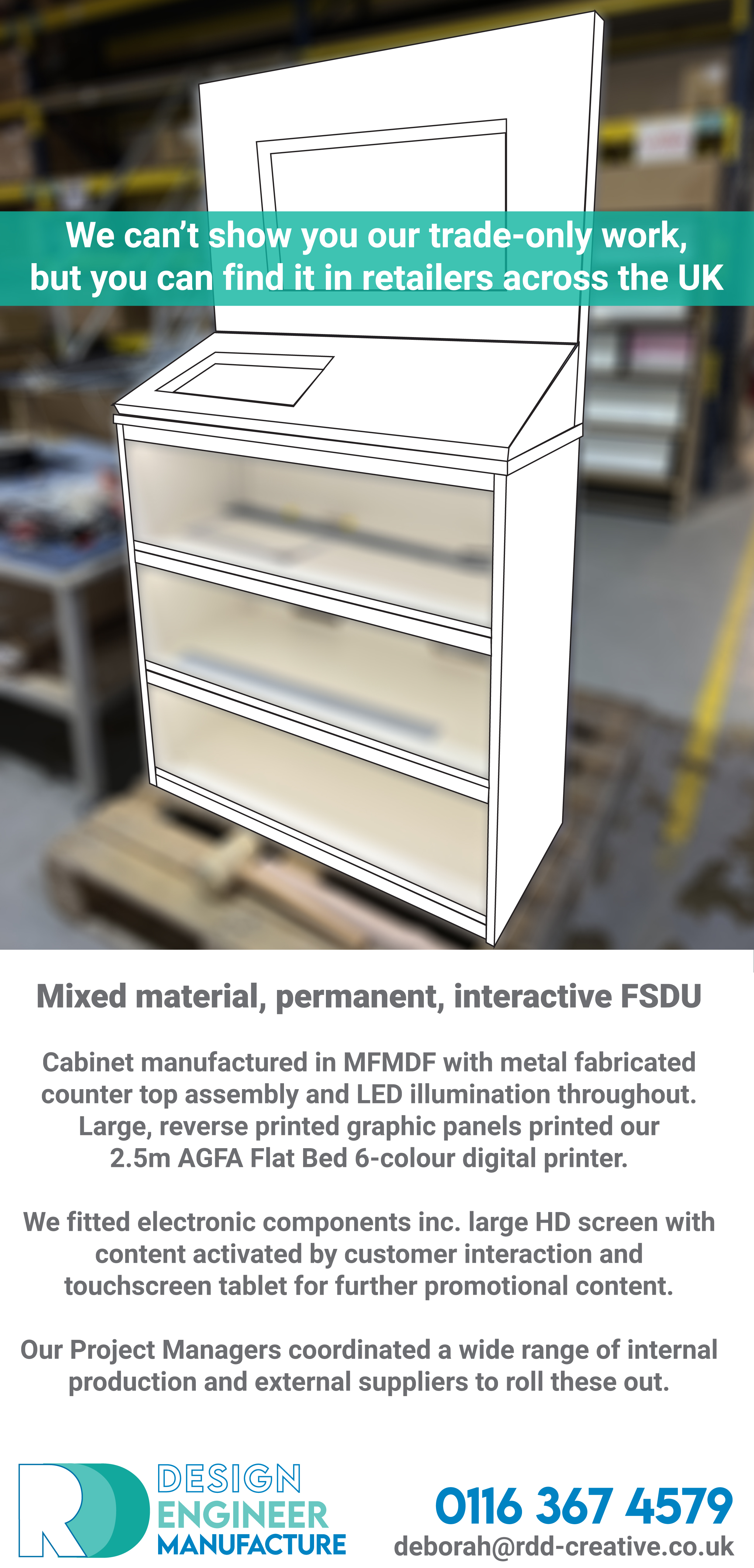 We can't show you our trade only work...
...but you can find it in retailers across the UK.
This week's inaugural Retail Crush is India's first solar-powered beauty and wellness boutique: SoulTree. Constructed of biodegradable materials, non-plastic fixtures and reclaimed wood with a zero-waste policy. Even the staff are outfitted in sustainable materials and 100% organic cotton...It's good to see sustainability as the core focus rather than an after-thought here. Whilst retro-fitting existing retail spaces can lead to increased waste short-term, environmental impact must be at the heart of refurbs and new designs. https://www.trendhunter.com/trends/soultree​
READY FOR A NEW CHALLENGE?
We are expanding our studio and production teams, so recruiting for a few different roles. We are looking for problem solving creatives. Check out our vacancies: Development Designer Prototyper Project Manager If you are interested in joining a leading POS manufacturer, please get in touch. No agencies.